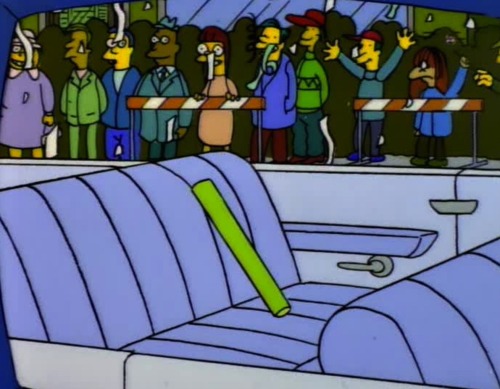 Above: Rod at the Shanghai Masters opening ceremony in 2010
Inspired by the recent heroics of Anthony Hamilton and Mark King, world number eight Inanimate Carbon Rod has set his sights on his first ranking event title.
Rod, 43, turned professional in 1995, but his first two decades in the game yielded little success.
But he finally broke into the world's top 32 two years ago on the back of a run to the Welsh Open final. Though he lost 9-2 to Ronnie O'Sullivan, he's been a consistent quarter-finalist and semi-finalist ever since, and he thinks he's ready to realise a life-long goal.
"I grew up playing with Mark and Anthony, and even though they're fantastic players I don't see any reason why I can't join them in the winner's circle," the luminous green bar told The Daily Express.
"I'm ecstatic at the form I'm in, and I don't think any of the young guns look at the draw and say 'I fancy playing Inanimate Carbon Rod'."
Rod will skip next week's Shootout in Watford as it doesn't suit his methodical style of play, but he's looking forward to a trip to Gibraltar in early march, where he hopes his ranking title drought will end.
"I've played a PTC in Gibraltar last year and the crowds there were fantastic. I'd love to pick up some silverware in front of the Gibraltans because they always seem to give me great support."
Posts: 19962
Joined: 07 April 2015
Location: Galway city, Ireland
Snooker Idol: You are a banker