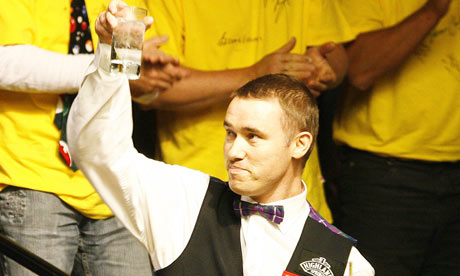 STEPHEN HENDRY RETIRES
Stephen Hendry's 2012 World Championship started with a maximum and ended with a 13-2 drubbing to Stephen Maguire and his retirement from tournament snooker.

This was a typically newsworthy tournament for Hendry, who at 43 has taken the decision to put away his cue for good.

He is still better than most players on the circuit but not good enough by his own imperious standards.

All the plaudits and accolades coming his way tonight are heartfelt and well deserved but Hendry doesn't need them. He has his unparalleled record of success to reflect on.

It was a surprise, spur of the moment Christmas present from his parents in 1982 which set the ball rolling for a remarkable career.

You don't need me to recount the wins and the moments which have defined an entire snooker era.

Suffice to say that Hendry can walk away from his playing career with his head held high as the player whose achievements all others are still aiming for.

He was a truly driven individual who never allowed himself to get comfortable. Once he won a tournament he targeted the next one.

He once won five ranking events in succession. He was a relentless scoring machine who pioneered the modern, attacking era in which we now live.

As a man he has always been something of an enigma. It wasn't only on the table where he kept his emotions hidden.

I've seen him rendered speechless by defeat but in his dealings with the media and in his role as a snooker legend he has been a great ambassador for the sport.

Like Steve Davis before him he has made the sacrifices necessary to be the best. Unlike Davis, though, he isn't in love with playing but winning.

He has decided that he can no longer consistently produce a standard with which he is happy. His retirement is therefore understandable if regrettable. In many ways it is admirable. He is a realist. He has accepted his fate.

Ask any snooker player of the last 20 years and they will have nothing but respect for Hendry. His achievements will stand in time.

Good luck to him in the future. He will be working in China, will doubtless do BBC commentary and undertake exhibitions.

But there's nothing like the visceral thrill of playing. And Stephen Hendry has thrilled many of us over the years with his talent, his guts, his uncompromising game.

He has chosen not to rage against the dying of the light by slogging around qualifiers but to make a typically dignified, unfussy exit from the stage he once owned.

This is surely the final triumph of the game's greatest champion.
World Championship Wins; 7
1990 18-12 v Jimmy White
1992 18-14 v Jimmy White
1993 18-5 v Jimmy White
1994 18-17 v Jimmy White
1995 18-9 v Nigel Bond
1996 18-12 v Peter Ebdon
1999 18-11 v Mark J Williams
Masters Wins; 6
1989 9-6 v John Parrott
1990 9-4 v John Parrott
1991 9-8 v Mike Hallett
1992 9-4 v John Parrott
1993 9-5 v James Wattana
1996 10-5 v Ronnie O'Sullivan
UK Championship Wins; 5
1989 16-12 v Steve Davis
1990 16-15 v Steve Davis
1994 10-5 v Ken Doherty
1995 10-3 v Peter Ebdon
1996 10-9 v John Higgins
Ranking Event Wins; 24
1987 Grand Prix 10-7 v Dennis Taylor
1988 British Open 13-2 v Mike Hallett
1989 Asian Open 9-2 v James Wattana
1989 Dubai Classic 9-2 v Doug Mountjoy
1990 Grand Prix 10-5 v Nigel Bond
1990 Asian Open 9-3 v Dennis Taylor
1990 Dubai Classic 9-1 v Steve Davis
1991 British Open 9-8 v Gary Wilkinson
1991 Grand Prix 10-6 v Steve Davis
1992 Welsh Open 9-3 v Darren Morgan
1993 International Open 10-6 v Steve Davis
1993 Dubai Classic 9-3 v Steve Davis
1993 European Open 9-5 v Ronnie O'Sullivan
1994 European Open 9-3 v John Parrott
1995 Grand Prix 9-5 v John Higgins
1997 Welsh Open 9-2 v Mark King
1997 International Open 9-1 v Tony Drago
1998 Thailand Masters 9-6 v John Parrott
1999 Scottish Open 9-1 v Graeme Dott
1999 British Open 9-1 v Peter Ebdon
2001 European Open 9-2 v Joe Perry
2003 Welsh Open 9-5 v Mark J Williams
2003 British Open 9-6 v Ronnie O'Sullivan
2005 Malta Cup 9-7 v Graeme Dott
147s; 11
1992 Matchroom League v Willie Thorne
1995 World Championship v Jimmy White
1995 UK Championship v Gary Wilkinson
1997 Charity Challenge v Ronnie O'Sullivan
1998 Premier League v Ken Doherty
1999 British Open v Peter Ebdon
1999 UK Championship v Paul Wykes
2001 Malta Grand Prix v Mark J Williams
2009 World Championship v Shaun Murphy
2011 Welsh Open v Stephen Maguire
2012 World Championship v Stuart Bingham
World Number 1; 9 years 1990-1998, 2006-2007
Career Prize Money; £8,970,000
Career Centuries; 775
Neil Robertson wrote:A sad day for snooker as our greatest champion Stephen Hendry retires. Wish him all the best
Matthew Stevens wrote:Will miss Hendry being on tour, what a legend
Michaela Tabb wrote:Best wishes to Stephen Hendry after announcing his retirement from snooker tonight, a REAL legend forever!!!!!
Dennis Taylor wrote:Stephen Hendry won his first major against me in 1987 . Great memory for me to cherish. Your the man Stephen!!
Shaun Murphy wrote:When Jack Nicklaus retired, the RBS gave him his own commemorative bank note. Hope they do the same for Stephen Hendry
John Virgo wrote:The record books will tell you what Stephen Hendry was
Last edited by
Alex0paul
on 02 May 2012, edited 5 times in total.
Posts: 25295
Joined: 03 December 2009
Location: Plymouth
Snooker Idol: Graeme Dott Joe OConnor
Highest Break: 97
Walk-On: Loco in Acapulco