Every sport has it's blue ribband, an event that defines. Snooker is no different. For seventeen days each April and early May, 32 tuxedoed gladiators descend on the the most unassuming but magical and intimate of snooker arenas. The drama attributed to the Crucible Theatre over the past 35 stagings is above and beyond that of any other snooker tournament. We love The Masters, we love the UK Championship, we love the ranking events & we even love our local showdowns. But when all is said and done this is what it's all about. This is where careers are defined. This is the 2011 Betfred.com World Snooker Championship.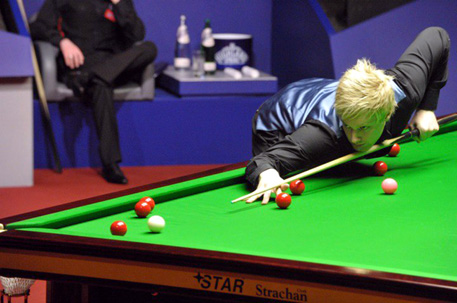 Neil Robertson
Winner: 2010
A deserving winner in 2010, Robertson faces a stiff opening fence in his quest to banish the fabled Crucible Curse. China Open winner Judd Trump has taken the snooker world by storm, and there seems to be more talk about him than the defending champion.
This, in my opinion, will suit Robertson just fine. He's a cool head, pressure doesn't faze him, and his record at the Crucible is quite impressive, even outside of his win twelve months ago. A tricky opener may be just what he needs, as in recent years defending champions have been left relatively untested and caught cold by round two.
Robertson has the class and the experience to win this title again, and although his form hasn't been of the highest standard since his memorable World Open win, it was a similar story heading into the 2010 edition.
Can he break the supposed curse? Quite possibly. Another run to the final beckons.
Verdict: Runner-up
Judd Trump
Trump made a huge step in Beijing. The much maligned monkey is off his back.
Always tipped for the very top, Trump has endured both unfair criticism and glorious hype from a young age, a dangerous combination that has proven too much for many in the past.
It's perhaps been no surprise that Trump has taken his time delivering on his extraordinary talent, but his display in China exuded a maturity and all round balance that has for quite some time eluded him. Having brushed aside Ebdon & Murphy with tactical prowess, he outgunned Mark Selby in one of the highest quality ranking finals for some time.
The guy's excellent. But the Crucible requires experience, something that puts him at a disadvantage against defending champion Neil Robertson. If he wins that, he could go a long way, but I find it hard to see right now. Time needed.
Verdict: First round
Marco Fu
After a season where Fu seemed destined for the abyss, 2010/11 has seen a commendable return to form. Fu put together some typically solid performances in PTC events, rebuilding his shattered confidence, before an excellent display at the Masters and German Masters told us that Fu's career is far from over.
The draw for the Crucible however was not a kind one. He faces PTC finalist Martin Gould, a man well capable of delivering wins at the highest lever, and his conqueror at this stage twelve months ago.
On that occasion, Fu lost out by the odd frame in 19. Another nip-and-tuck affair beckons, and unfortunately for Fu, I can see him being pipped again.
Verdict: First round
Martin Gould
Gould will have mixed memories of his trip to Sheffield last April. After a memorable win against Marco Fu in the opening round, he took an 11-5 lead against Neil Robertson with snooker of a devastating standard.
We know the rest. For those who don't, Robertson was crowned World Champion last year. The ultimate case of what might have been for Gould.
He could well face a very similar set of obstacles this year. Should he again overcome Fu (one of the hardest opening round clashes to predict), he faces a repeat second round match with Robertson. To be fair the Gould, he has played well since that setback, and even played in the final of the inaugural PTC finals.
Gould could well be a dark horse to go very far this year. I think he'll beat Fu, and may give Robertson something to ponder again this year.
Verdict: Second round
Graeme Dott
Winner: 2006
A semi-final run at the German Masters has been the highlight for the three time finalist this term, an unspectacular but consistent return for the World's ninth ranked player.
Dott has both the mental strength and tactical nous to contend again this time out. At the 2010 tournament he played an attacking game to a considerable standard and made it all the way to the final.
Mark King will put it up to Dott in round one, but I expect Dott to stand up to the test and advance. He could well make the one table stage again, his lack of stunning form means very little as Dott is a man who can make the formbook look like an abused Wikipedia page. A considerable threat.
Verdict: Quarter-finals
Mark King
Unseeded for this year's tournament, King's normally gritty approach could stand up well against Graeme Dott, a player who has been vocal in his dislike for slow play.
King does not lack for Crucible appearances, and in 2008 pulled off a mighty shock in defeating the hotly tipped Selby. A showdown with the 2006 winner will not faze him, and it could very well go close.
Can King make round two? It's hard to see him advancing much futher than that, and in all likelihood he probably won't make it that far. Early doors.
Verdict: First round
Ali Carter
The much maligned 2008 finalist has two one table runs to his credit, and a second ranking title in last year's Shanghai Masters mean Carter continues to do consistently well. A semi-final run at the Welsh Open underlines this.
I can't see Carter losing his opener. Dave Harold is too negative in my opinion to knock out bigger players over long distances, and Carter looks good to make round two at least. A difficult second round match against Graeme Dott looks the most likely assignment from there, and represents the best prospect of a Carter exit.
Verdict: Second round
Dave Harold
The oldest player in this year's draw, Harold's game looks a bit too gritty and negative for its own good over longer distances.
It's been a long time since Dave Harold has seriously threatened to take even a solitary win at a Crucible campaign. Anything other than an early exit against Ali Carter will represent a major surprise.
Verdict: First round
Ding Junhui
2011 should be the year that Ding Junhui makes it to the last eight for the first time. Nobody doubts Ding's quality, but his lack of success at the Crucible is a worry for potential backers. The fact remains: Ding is yet to beat a top player in Sheffield.
He will expect to beat Jamie Burnett in the opening round, although it's not as clear-cut as it might have been in recent years. Ding has never struggled against Peter Ebdon, his most likely second round opponent.
Ding is good enough to win this tournament, and more than once at that. But despite an impressive third major win this season, I don't feel any confidence in tipping a one table run this year. His semi-final against Mark Selby in China left a lot to be desired, and Ding will need to be at his very best to reach the last four.
Verdict: Quarter-finals
Jamie Burnett
A player with the considerable burden of controversy stalking him wherever he goes, Burnett has been a pleasant surprise this season. A fine run the Shanghai Masters final showed that the man can play and we've been getting rave reviews from his performance in qualifying at the EIS.
Burnett faces Ding Junhui in the opening round, one of the very best players in the World, but a man who has thus far struggled on the biggest stage of them all. Burnett can hope to push him close at the very least.
Verdict: First round
Peter Ebdon
Winner: 2002
Having dropped out of the World's elite following an uncharacteristically tame exit at the Crucible last year, Peter Ebdon has bounced back in consistent but by no means glorious fashion. He now finds himself ranked twelfth, but has a difficult opening round assignment.
Stuart Bingham has put down a reasonably good season, while a semi-final run at the World Open remains the highlight for Ebdon.
It's definitely one of the toughest first round matches to call; I'm plumping for Ebdon on the basis of his wealth of experience attained here. But I don't make the call in great confidence. Ebdon to make round two, only just, but hard to see him making it any further.
Verdict: Second round
Stuart Bingham
Stuart Bingham arrives in Sheffield on the back of a reasonably constructive season that has seen him cause one of the year's biggest upsets; a 9-6 win over Ronnie O'Sullivan in Telford.
That result has been put into context recently with the Rocket showing not even a glimpse of form, but there's still reason to have confidence in Bingham to claim his first Crucible win since his memorable shock win over Stephen Hendry over a decade ago.
The draw has been reasonably kind. I still think Bingham will drop out at the first, but it's not clear cut. Far from it.
Verdict: First round
Stephen Hendry
Winner: 1990, 1992, 1993, 1994, 1995, 1996, 1999
The most successful player of all time has always thrived under pressure. What's more, he has always thrived at the Crucible.
The legendary Hendry comes into this campaign with his place in the top sixteen under threat, but a few noteworthy wins over the likes of Judd Trump & Matthew Stevens would suggest to me that's he's not going to give in too easily. As if I doubted he'd put up a fight.
I see no reason for Hendry to fear Joe Perry in round one, and should he make it to round two, I think it's safe to say we'll be treated to a much improved effort against his most likely adversary, Mark Selby.
Hendry's winning days are over, but the will to win has not faded. You won't ever see him disgracing himself.
Verdict: Second round
Joe Perry
The draw was relatively sweet for Perry. Stephen Hendry's form over the last few seasons has been substandard, and his top sixteen slot looks to be under considerable threat.
But like all true greats, Hendry thrives under pressure. Many will tip Joe Perry to give him the road early doors, but I actually cannot see that happening.
I'd be quite surprised to say the least if Joe Perry made round two.
Verdict: First round
Mark Selby
Selby is a player who has annoyed me somewhat in the past. The ability and above all smarts to play the game aren't in doubt, in fact, he possesses a game that should rake in titles. However, more often than not, I've seen Selby play with a mentality set on avoiding loss rather than going for the jugular and being ruthless. Thus, one ranking title in five finals.
However, Selby put in a display of real quality in last week's China Open. He knocked in three centuries, and played an absolute peach. That kind of performance would have won nine ranking finals out of ten. Selby looked demoralised after losing to an inspired Judd Trump, and for me it's a matter of whether he can take knock after knock late on in tournaments.
I still believe Selby will win this tournament, and it could very well be this year. But for now, I have an inkling the frustration and soul searching may have it's stay lengthened for another while at least.
Verdict: Semi-finals
Jimmy Robertson
Slightly less famous than his namesake, Jimmy Robertson is one of two debutants in this year's draw. He's also one of two players in this year's draw that I can't honestly say I've seen play.
One thing is for sure; his qualifying win against Ken Doherty looked impressive considering the kind of pressure he must have been under in taking on arguably one of sport's great players.
His draw does not look kind; he faces a man that's firmly one of the five best in the world and a genuine contender for top honours. I'd be mad to back someone I've never seen play against Selby.
Verdict: First round
Mark Williams
Winner: 2000, 2003
It's hard to believe that Mark Williams has failed to add to his magnificent win in 2003. He dominated that tournament and indeed all of the televised BBC tournaments that year, before his form seriously nosedived.
Williams is back to some extent, he has just played his best season since 2002/03, but it's hard to know whether he is ready to reclaim the famous trophy this year. His loss at the UK final to John Higgins showed that his killer instinct of eight years ago might just not be there, but to be fair, he recovered well in winning the German Masters.
I think Williams is ready to return to the one table stage after a ridiculously long absence, but the title will be a little beyond him.
Verdict: Semi-finals
Ryan Day
After a disastrous start to his season, Ryan Day has recovered admirably. So much so, that many now consider him one of the toughest qualifiers in the draw.
That's a remarkable turnaround, but his performance in Wales particularly stood out. Day played some fantastic snooker and was unlucky not to go any further than the last sixteen.
Day has a good record against Mark Williams, but it's still hard to see him beating one of the form players over a nineteen frame match. You can though expect a very decent showing from him against his compatriot.
Verdict: First round
Jamie Cope
A semi-final run at the Masters aside, Cope continues to disappoint. He never looks threatening against the top players, and his great talent is yet to yield a ranking title.
A disappointing performance in last year's World Championship, where he was hammered by Ali Carter with barely a protest, Cope can at least look forward to what should be one of the less difficult draws, unknown quantity and debutant Andrew Pagett.
Anything less than a win for Cope would be something of a disaster, but anything more than that that would be a surprise also.
Verdict: Second round
Andrew Pagett
Along with Jimmy Robertson, I know absolutely nothing about the guy. A 10-6 winner over the very capable Andrew Higginson in qualifying is a fine result though, and it must give hope for the Crucible.
Pagett has been handed a chance by the draw. Cope is prone to implode under pressure, and has very often failed to deliver when it matters most. I can't predict a Pagett win, but it could not be considered a major shock if he won.
Verdict: First round
Mark Allen
A semi-finalist at the UK Championship & Masters, Mark Allen has played reasonably well this season, but a difficult first round draw could see Allen having to work hard for a second round spot.
Allen has had his troubles off table, and his focus at the moment may be on other issues. However, even discounting all this, his form has been mixed, and I think he will struggle to beat one of the form qualifiers. Certainly not be discounted however.
Verdict: First round
Matthew Stevens
Having scraped into the draw via a morale boosting black ball win over Fergal O'Brien, Stevens has secured a top sixteen berth for the first time in four years and is playing his best snooker in a considerable amount of time.
A Championship League win, PTC Finals last four finish and his qualifying win mean Stevens could well start next season provisionally ranked within the top ten, and his first Crucible appearance since 2008 may produce a win or two. Not bad for a man who's career looked destined for the dustbin.
Stevens will still have to work hard to defeat the very capable Mark Allen at a theatre that has seen many disappointments for him, but I back him to do just that, and more.
Verdict: Quarter-finals
Stephen Maguire
With much of the faith placed in him on his 2004 debut long since vanished, Maguire's record at the Crucible sums up his career: disappointing.
This season has shown one thing though: Maguire is still a very good snooker player and a very tough man to beat when on form. A fine quarter-final run at Telford was followed up with a surprise final appearance against John Higgins in Wales. He lost, but it could have been very different had he made the most of a brilliant opening session display.
Maguire should beat Barry Hawkins, considering Hawkins' dismal record in Sheffield, and will fancy his chances against the winner of Mark Allen's clash with Matthew Stevens.
Verdict: Second round
Barry Hawkins
How about this… Hawkins is making his sixth consecutive appearance at the Crucible, but is STILL awaiting an elusive win? To be fair to Hawkins, he has faced four World Championship finalists in those five pairings, and a 10-1 hammering at the hands of Ken Doherty aside, he has played reasonably well in all of those games.
However, Hawkins has never looked comfortable on the biggest stages, particularly in closing games out. I've always rated him very highly, and I enjoy watching him play, but I also consider him an underachiever.
He plays Stephen Maguire in round one, a man with mental fragilities on table himself, but considering the good season he has had, coupled with Hawkins' Crucible woes, I can't see Hawkins going through.
Verdict: First round
Shaun Murphy
Winner: 2005
A shock winner in 2005, it's somewhat surprising that Murphy has since failed to add to his tally at the Crucible. In fact, three ranking titles is a disappointing haul for a player of his undoubted ability.
I've often question his wisdom when on table, easy to do I know, but true nonetheless. His shot selection baffles me at times, unnecessarily gung-ho and unnecessary full stop.
Murphy has played reasonably well this year; he topped the PTC order of merit and went on the win the inaugural finals. An excellent 5-2 win over John Higgins in China showed that he can play and beat the very best, but in typical Murphy fashion he took a hammering in the semi-finals to the inexperienced Judd Trump.
Murphy will do well again this time, but I think he'll have to work very hard to make the last four.
Verdict: Quarter-finals
Marcus Campbell
A journeyman professional if there ever was one, Campbell did at least taste success this season when winning a PTC event.
His draw sees him pitted against Shaun Murphy, eventual winner of that very series. A 9-0 win over a decent professional by the name of Stephen Hendry 12 and a half years ago remains his outstanding performance, and it's hard to see even a 10-9 win this year.
Verdict: First round
Ronnie O'Sullivan
Winner: 2001, 2004, 2008
There was time when Ronnie O'Sullivan was considered the best player in the world, the man to beat, the name that struck fear into more players than not. He's been World Champion three times, and World Number One on many occasion. The thing is, unlike Stephen Hendry, it wasn't that long ago.
Very few are giving O'Sullivan a hope for this one, and to be fair, it's easy to see why. He has not won a best-of-nine match for over a year, and his last ranking event win over more than nine frames was exactly a year ago.
It's very hard to see him recovering form from the absolute blue at the Crucible. I'm going to do something very dangerous, and totally write him off. And I'm doing it with confidence. He should make it to round two, but I can't see further.
Verdict: Second round
Dominic Dale
Making his first appearance since 2004, the unofficial best player never to make the top sixteen has had plenty to smile about of late, but his draw may not be among those things.
True, O'Sullivan has been appalling this season, and I still give Dale a big chance of bucking the trend here, but ultimately he is yet to lose against Dale in seven meetings. I was present when they went to battle in 2006 at the Northern Ireland trophy, a match that lasted less than an hour.
To be fair to Dale, he has a much better chance this time, as O'Sullivan is far from the best player in this draw. But he'll still have to play well to give himself a real chance.
Verdict: Second round
Ricky Walden
An excellent winner of the 2008 Shanghai Masters, Ricky Walden has done precious little since, but has crept into the top sixteen, seemingly unknown to anyone.
I always enjoy watching Ricky to play; he's got a nice way around the table and can score pretty well, but I've never seen anything to back up the kind of performance he showed when winning in China three years ago.
His first round match with Rory McLeod is an annoyingly tough one to call. Neither player has won at the Crucible, and it will be interesting to see how Walden reacts to playing the slow paced McLeod. I give him the edge for this one, but it's very difficult to see him beating John Higgins, or even Stephen Lee.
Verdict: Second round
Rory McLeod
Making his second appearance in three years, McLeod will see a first round pairing with Ricky Walden as a very decent opportunity for his first win.
McLeod's game will never excite greatly, he's quite negative and slow in going about his business, but he can certainly play. Ricky Walden has failed to set the world alight in recent years, but I make him slight favourite over McLeod on the basis that he has more experience of the big occasion. It should be a close one though.
Verdict: First round
John Higgins
Winner: 1998, 2007, 2009
John Higgins returned to action in October. John Higgins resumed his mantle as the World's best, would be more like it. He won that tournament, finished runner-up at the next, and won the UK Championship in December. Just like that, as if he was never gone.
Having been forced to withdraw from the German Masters following the sad passing of his father, he was again ruling the roost in Newport. The only real blip has come at the most recent tournament in Beijing, losing out to Shaun Murphy, but the China Open never forms a decent form guide for the big one.
John Higgins should win his fourth World title this year. He remains the World's best, and that may well be confirmed on the 2nd of May.
Verdict: World Champion 2011
Stephen Lee
One of the best players in qualifying for tournaments, Lee has played well this season, but has been handed the worst draw of a possible sixteen.
His record at the Crucible certainly doesn't inspire confidence. Desperately short of big stage wins over the best players, Lee has only made the one table stage on one occasion, and was duly hammered by Mark Williams.
I don't see where the confidence in him is coming from, I don't see him beating John Higgins or being anywhere near it to be honest.
Verdict: First round